Nurse Health Care Manager Certificate Program
Nursing Education
This set of six continuing nursing education nursing courses consists of six courses
approved individually by the North Carolina Nurses Association, an accredited approved by
the American Nurses Credentialing Center's Commission on Accreditation
for 27.00 nursing continuing education hours.
Click here to obtain your Nurse Health Care Manager Certificate
Total Certificate Cost: $87.50
Why Consider Taking this Certificate?
This set of six courses prepares you to move into a managerial role in a variety of health care settings. You will take the following courses.
Nurse Health Care Manager Certificate (click here for sample certificate)
6 courses 27.00 contact hours
MANAGEMENT courses
NURS 1-620 4.00 $19.00
Ingredients of Effective Management
NURS 1-628 3.75 $18.00
Improving Human Resources

NURS 1-634 3.5 $15.00
Learning To Manage Health Care Accounting
NURS 1-644 4.00 $14.00
Learning the Continuum of Health Care
Who the players are, what the laws are.
RESIDENT CARE course
NURS 1-654 6.00 $19.00
Aging Process/Resident Care
INFECTION CONTROL course
NURS 1-720 5.75 $18.00
Development of an infection Control Program
Separate course cost $103.00
27.00 nursing continuing education contact hours Certificate cost $87.50
What You Will Learn
The management skills you will learn in this certificate program are applicable across the health care setting. The primary focus in these six courses is the long term care facility setting. The nursing facility is situated mid-way between the hospital setting and ambulatory care settings such as a physicians' group practice. The nursing facility is complex enough to contain nearly all the departments and functions of a hospital (many nursing facilities have more beds that small hospitals). In addition, the managerial skill sets need in hospital and nursing facility setting can be applied across the health care system.
Through these courses you will learn the basic principles of managing the health care organization. The majority of costs in health care are personnel….perhaps 60% of all health care dollars are spent on staff. The course on human resourced prepares you to manage health care staff. No health care organization can survive without sustainable financing. You will learn the basics of health care organization financing. The fourth course provides background on the rules and regulations of the health care field. The fifth course focuses on resident care ideas which are transferable to any health care setting. The final course, infection control, prepares you in an area faced by every health care provider at every level of care. In today's world of increasingly antibiotic resistant bugs every health care provider must successfully manage the threat of infections.
Vancomycin-resistant-staphlococcus-aureus (below) can be in any health care setting….not just the hospital.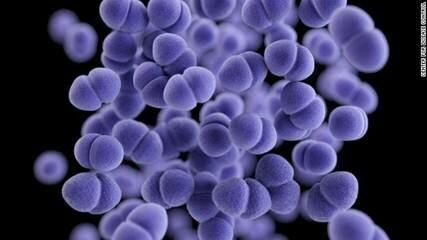 Career Development
If you are interested in becoming the administrator of a health care facility, these courses are an excellent stepping stone.

Added benefits
Certificate and 27.00 contact hours
You will both earn a Director of Nursing Certificate and 27.00 ANCC contact hours that can be applied to nursing continuing education requirements.
FAQ's
HOW DO THE COURSES WORK?
The work is divided into 6 smaller courses each of which has a set of multiple choice questions. When you achieve at least 70% correct answers you have completed that course. You can complete the courses in any sequence. When you have completed all six you receive the certificate (and 27.00 ANCC approved nursing continuing education contact hours).
COULDN'T I JUST STUDY ALL THIS ON MY OWN?
Yes. The value added by studying with us is:
A guided study process divided into six courses with feedback via successfully answering multiple choice questions.
27.00 contact hours you can use to meet any nursing continuing education requirement
A certificate you can frame and use to help qualify for a position or just have on your wall. (click here for sample certificate)
Someone to call and talk to when you need clarification or encouragement as you wade through all the materials.